What Assistive Technologies Are Available To You As A Teacher?
The advancement of technology has led to many new doors being opened for individuals with impairments. Students who are blind or deaf now have many more tools to assist them in their academic careers. I believe that it can be argued that the iPad is at the top of the list of most important technologies created for the impaired. As shown in the video,
iPad Usage For The Blind
, the iPad comes straight out of the box with the ability to be configured for a blind individual. Through the built in program, Voiceover, the contents of the screen are read aloud. By having this ease of access, the iPad has made it possible for the visually impaired to be able to do things such as read a book or even search iTunesU for academic materials. One can see that this would not only help the student in their studies, but also aid the teacher in being able to educate. The accessibility of the iPad would allow the educator to assign reading materials to the entire class. This would also make the grading and feedback process more efficient for teachers because the students with visual impairments are now able to use email as a means to submit work.
Many apps are being developed to take advantage of the iPads boundless capabilities. The e-book,
Reach For The Stars
, is just one example of developers trying to create a method for blind students to experience science and the universe. Astronomer Elena Sabbi, the inspiration for the e-book states that, "And technology is improving so fast that we are sure you will be able to learn and do new things. Things are becoming more reachable." I believe that this is the main way that technologies such as these assist educators the most. They give teachers the ability to reach the impaired students nearly just as effectively as their general students. These tools allow for an impaired student to have a much greater chance at discovering that subject or topic that they connect with and want to study deeper.
-
Russell McDuffie
The Mountbatten
, an electronic machine used to write braille, is very beneficial not only with the blind student but for the instructor and fellow classmates. The device uses word processing and provides audio feedback to ensure the correct character was selected. The use of the iPad for deaf/blind students in
Having a Great Time Teaching
demonstrates how effective such modern devices have become in the world of education.
In the field of music education, a website entitled
Blind Music Student
lists several programs that would aid in a visually impaired child's ability to read, compose, and perform music. Two programs that assist are
Lime Lighter
and
Goodfeel
. Lime Lighter creates a legible digital music score for individuals with low vision while Goodfeel serves as a music note-to-braille translator. Goodfeel also allows sighted teachers and other musicians to change typical sheet music into Braille without having any prior knowledge of the Braille system. Before Goodfeel was invented, converting musical notations into Braille could take six weeks to complete after sending the materials to a translator.
Another app that is widely popular with those working with exceptional children that fall under the Autistic Spectrum (along with several other developmental and intellectual disabilities) is
Proloquo2Go
. The features found in this program provide assistance with children who benefit from symbol support. Students can speak by tapping buttons with words/phrases, develop their vocabulary, and send emails/text messages.
-Vikki Turner
What assistive technologies are available to you as a teacher?
Currently iPads are becoming increasingly popular in all classrooms, and voice reader allows every student to participate even if a student is blind. Simply hovering over an application or icon allows the voice reader to read the name of the application aloud, and also instruct an individual to double click the icon in order to open it.
Computer Assisted Notetaking (CAN)
Students can enjoy full access to instruction in selected mainstream settings through the use of this real-time captioning system. An instructor or paraprofessional typing into a laptop computer, that is hooked up to a high-luminosity portable projector, will allow not only deaf students, but non-hearing impaired students to follow the instructions on an oversized screen or whiteboard at the front of the room. Hard copies of the notes will be edited into functional language-masters and provided to students at the end of the day for study at home.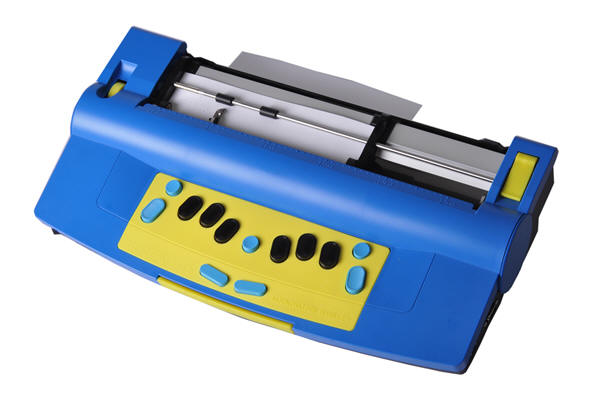 The Mountbatten Brailer
The MB Learning System has been designed for children who need Braille. It is a fun and inclusive introduction to Braille literacy and provides a solid foundation for a lifetime of learning. Extensive research and development has resulted in a design suitable for the very first stages of Braille instruction through to high school and beyond.
-Melanie Lee